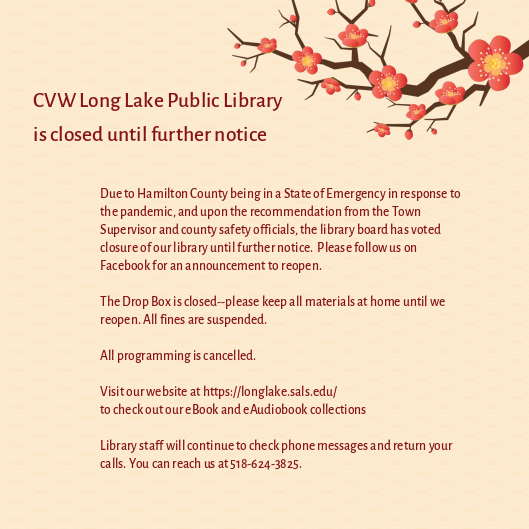 COVID-19: Libraries and Healthy Communities
On Saturday, March 7, 2020, Governor Cuomo declared a state of emergency as the reporting of cases of COVID-19, more commonly known as the coronavirus, began to rise. Locally, we know of several confirmed cases in Saratoga County.
Public libraries have a critical role to play in sharing information and resources related to this public health crisis. At this point, the priority is to remain calm, be informed and share what we know with the public, and reduce opportunities for transmission. While we cannot control COVID-19, we can regulate our response to it, and be thoughtful about how we interact and have contact with others, be sure to take ample preventative measures (wash your hands!),  keep ourselves healthy, and self-quarantine if we are sick.
What is COVID-19?
The World Health Organization designated COVID-19 a Public Health Emergency of International Concern on January 30, 2020.
COVID-19, commonly known as the coronavirus, causes a range of respiratory illnesses that can be particularly dangerous to senior citizens and people with compromised immune systems and underlying health conditions. The main difference between the flu and COVID-19 is the speed of transmission – the coronavirus has a longer incubation period, which can last up to 14 days from the time of infection to the appearance of symptoms. The virus may be transmitted by people who do not display symptoms, which makes it difficult to track. COVID-19 spreads relatively through pathogens in the air, in respiratory droplets. Symptoms include fever, cough, difficulty breathing, and shortness of breath. According to the World Health Organization, there are currently no vaccines for COVID-19.
COVID-19 Testing
The CDC's test to determine whether an individual has contracted Coronavirus is, at this time, only available at a laboratory that the CDC has designated as qualified. It is unclear whether testing will be made available to most health care practitioners; the CDC has indicated only that it will soon "share these tests with domestic and international partners." New York has asked the CDC for authorization to test in-state, rather than requiring samples to be sent to the CDC's headquarters in Atlanta, Georgia. New York is also creating its own test for COVID-19. (Source: The National Law Review)
Credible Resources:
The World Health Organization has created a guide, Getting Your Workplace Ready for COVID-19.
The EPA has released a list of recommended cleaning products.
Centers for Disease Control and Prevention
Johns Hopkins Coronavirus Resource Center
National Institute of Health
National Library of Medicine
Novel Coronavirus (COVID-19) Resource Center
Medline Plus
NYS Department of Health
Coronavirus Misinformation Tracking Center
Hamilton County Department of Health
Warren County Department of Health
Washington County Department of Health
Saratoga County Department of Health
New York State Novel Coronavirus Hotline: (888) 364-3065
Glens Falls Hospital COVID-19 Hotline: 518-926-HELP (4357)