Members of the Long Lake Public Library have access to all the resources of the Southern Adirondack Library System (SALS), a consortium of over 30 North Country libraries.
If you find something we don't have in our Long Lake holdings, just reserve it online and our staff will give you a call when it arrives!
<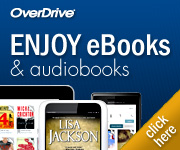 Heritage Quest Online
Research your family history online.  This collection assembles every extant U.S. federal census, banking and military records, genealogies, local histories, primary source materials, and genealogical and local history serials.  Purchased for residents in Hamilton, Saratoga, Warren and Washington Counties through a generous grant from Senator Hugh Farley, New York State Central Book Aid and the Southern Adirondack Library System.


Magazine, newspaper and encyclopedia articles are more are provided through New York's Online Virtual Electronic Library (NOVEL). Search from home using this link: